Inverter and Power Backup System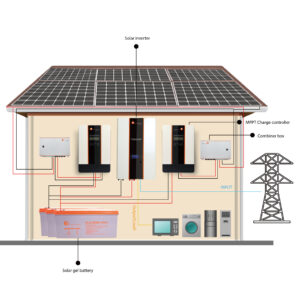 A power Backup system is a connection of an inverter charger to a Battery Bank. A power backup system is applied in on grid areas, where grid/umeme power charges the battery bank through the inverter charger, the battery bank then stores energy to be used during Load Shedding times. During load shading the inverter will automatically invert DC power to Ac power to run your residential or commercial premise.
At Computer Store Uganda Limited we design customized Power backup systems based on your application and requirements.
Why you should buy your Power Backup System from Computer Store Uganda Limited,
At Computer Store Uganda Limited we do not just want to win a sale from you, we believe in giving you a Long-term working solution,
We also believe that our real relationship with you does not just end at the commissioning stage, actually our relationship with you begins after commissioning your Power back up system.
At Computer Store Uganda Limited we have a fully trained and equipped Technical Team to handle all your Power backup solutions, from, technical surveys, designing, installations, maintenance and servicing
You benefit from a one-year workmanship warranty on all systems installed by Computer Store Uganda Limited.
At Computer Store Uganda Limited we understand that timely service of your Back Up system improves its life span, through our Automated remote monitoring solution, we keep a service Rota/schedule for all our clients, we shall always notify you when the service dates are due.
We extend warranties on all our solar products as per manufacturer's terms and conditions.
We always recommend our technical Team to carry out a technical site survey before we recommend a perfect solution to our clients.