D-Link 24-Port Gigabit Switch (DGS-1024A)
In Stock
24-Port 10/100/1000Base-T Unmanaged Standalone Gigabit Switch
Aggregated bandwidth of 48Gbps
9K of jumbo frame support to help expedite transmission
All ports feature auto-MDI/MDI-X for automatic cable detection
Description
Product Description
The D-Link DGS-1024A is a 24-Port 10/100/1000Mbps switch that works with your current Ethernet network while allowing you to upgrade to Gigabit speeds. With an aggregated bandwidth of up to 48Gbps and up to 9K jumbo frame support, its addition to any network will dramatically improve traffic flow and eliminate bottlenecks. Installation is plug-and-play, as every port supports auto-MDI/MDI-X. DGS-1024A is an economical solution for bandwidth-intensive environments needing a compact desktop form factor.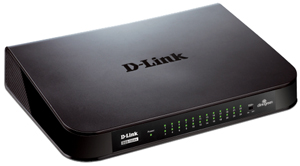 24 Ports with Gigabit Ethernet Speed
Revolutionary Design
Eco-Friendly
Gigabit On Every Port
The 24-Port Unmanaged Gigabit Switch series brings the speed of Gigabit Ethernet to each and every port for a truly high-speed network. If your network has a mix of legacy and modern computing capabilities, each port allows for standard Ethernet, Fast Ethernet, or Gigabit Ethernet connections. You have the latest technology available to every computer and device connected to your network.
Innovative Design
The sleek plastic case of the DGS-1024A series is an industry first for a Gigabit SOHO/SMB switch. Using a compact desktop style helps reduce heat levels and allow for a fanless design, making the switches silent, as well as economical. The 24-Port Unmanaged Gigabit Switch series is small, lightweight, wall-mountable, and ideal for any business with big needs and a small budget.
Conserves Energy
The 24-Port Unmanaged Gigabit Switch series helps you conserve energy automatically through several methods. It automatically powers down ports that have no link, allowing the switch to save substantial amounts of power by cutting power usage for unused ports or any ports connected to computers that have been shut down. It can also detect connected cable lengths, and adjusts power usage accordingly, helping you save energy without affecting networking performance.
Think Green
The DGS-1024A 24-Port Unmanaged Gigabit Switch series makes use of D-Link Green Ethernet technology, providing more energy savings and a longer product life, without sacrificing operational performance or functionality. These environmentally friendly switches are also RoHS compliant, use recyclable packaging, and minimize the use of harmful substances.
Model
Brand D-Link Series DGS-1024A Model DGS-1024A
Format & Standards
Format Desktop Standards IEEE 802.3 10BASE-T Ethernet
IEEE 802.3u 100BASE-TX Fast Ethernet
IEEE 802.3ab 1000BASE-T Gigabit Ethernet
ANSI/IEEE 802.3 NWay auto-negotiation
IEEE 802.3x Flow Control
IEEE 802.3az Energy Efficient Ethernet (EEE)
Network Management Type Unmanaged
Ports & Interface
Uplink Ports None Primary Ports 24 x RJ45 Primary Port Speed 10/100/1000Mbps
Data Transmission
MAC Address Table 16K Switching Method Store and Forward
Jumbo Frames 9216 bytes
Details
Buffer Memory 3.5Mbits
PoE No Stackable No
QoS No Layer Layer 2 Only Cabling 100BASE-TX, 1000BASE-T:
UTP CAT 5/5e (100 m max)
EIA/TIA-568 100-ohm STP (100 m max) LEDs Per port: Link/Activity/Speed
Per device: Power Power Switching 12V/1.5A level V power adapter
Features
Features Switching Capacity: 48Gbps
D-Link Green:
IEEE 802.3az Energy Efficient Ethernet (EEE)
Link status detection power saving
Cable length detection power saving
RoHS Compliance
Industry-first plastic case for a compact size
Auto MDI/MDI-X crossover for all ports
Full/half-duplex for Ethernet/Fast Ethernet speeds
Fanless design for silent operation
Plug-and-play installation.
Dimensions & Weight
Dimensions 10.1″ x 7.0″ x 1.8″ Weight 1.68 lbs.
Environmental
Temperature 0ºC to 40ºC (32ºF to 104ºF) Humidity 10% – 90%, Non-condensing
Group
Model DGS-1024A